As promised, I am finally uploading the other cakes that I have created this year, and maybe even one or two from the past!!!
Nolan just celebrated his 3rd birthday, and we as usual had 2 parties for him, one with family and the other with family friends and their kids. Nolan had a wonderful birthday, and no trips to the ER, so we were super excited about that. Any ways, this cake below was the one I created for the family birthday. It is a butter pecan cake and according to everyone tasted amazing. Probably those toasted pecans I added to the filling. Oh yum, the house smelled amazing while this was baking!!!!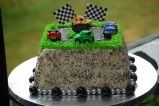 Unfortunately, I did not bake him a cake for the kid party, the heat soared to the 30's and the thought of turning on the oven to bake a cake made me cringe, so I hired the services of our local ice cream shop (DQ) and ordered a Diego Cake for him. They did a great job and everyone was excited about ice cream!!!
I donate a cake to the girls' school gala each year, and this year, one girl from Rylee's class was the lucky recipient of my donation. I had fun making this cake, and all the little girls and their Mom's oooh'd and aahhh'd over it. That just makes it all worth it in the end.
One of my coworkers ordered this cake from me for his daughter and her friend's birthday party. The theme was a PJ party and how perfect to make the cake look like a bed. It was a hit!!!
I realized I do not have any cakes from Rylee's birthday loaded, so here are the past few that I have created....
Rylee and her friend have birthday's 2 days apart and the past couple of years they have celebrated together. This cake I created from the e-vite that we sent out, and the girls we so happy, Rylee loved the birds!!!
When Rylee turned 5, she was very much into playing hockey, and really wanted a skating party, but instead of cake, she wanted cupcakes. Since her birthday is only 2 weeks after Christmas, I was more then happy to indulge her. The kids had a great time and not needing knives, forks or spoons made clean up at the rink simple and easy.
My sweet little Rylee, who is a tom boy through and through threw me for a loop when she turned 4, she requested a pink paper doll party. (Where she drummed up that idea is beyond me), but it sounded like a lot of fun, so this is the fun cake I created for that party.
So I think I am up to date with cakes, but I have an order to create tomorrow and then Alexis' 8th birthday cake to do next week. She has requested a backyard camping party, so I am envisioning a tent or something like that for her cake.
Check back again soon to see the new creations!!!
Cheers!!!